Free shipping with all subscriptions
a natural alternative
to proactiv
We've created a NATURAL and EFFECTIVE alternative for blemish + acne control — WITHOUT the use of harsh chemicals.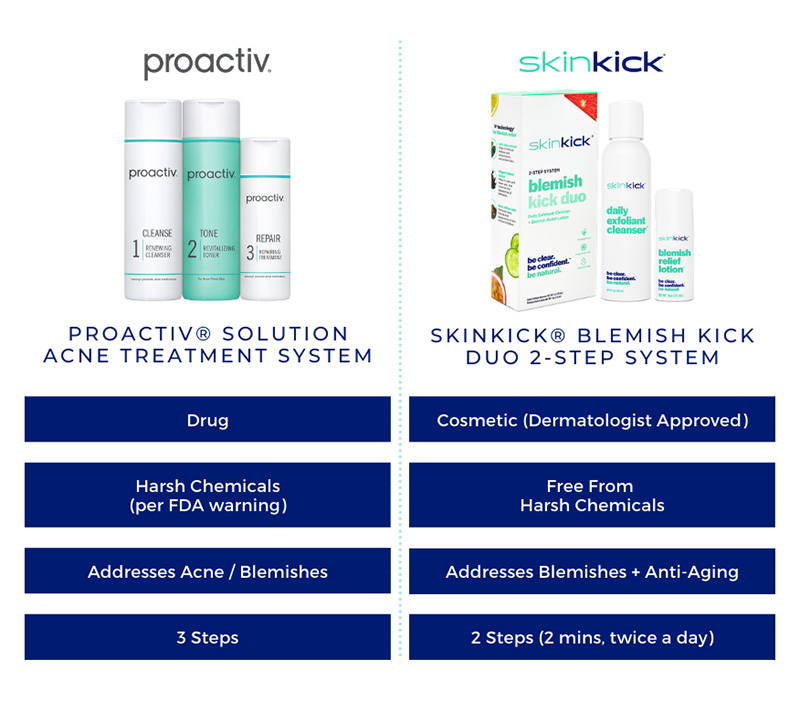 Harsh chemicals are harmful, plain and simple.
As a Chemical Engineer, I witnessed and personally experienced how harsh chemicals can dry out and damage skin, which also seriously impacts your overall health. I want my children to be healthy and live happily ever after. I would NEVER let them use products with nasty chemicals. At SkinKick, we feel strongly about excluding harsh chemicals and toxins from our products. So we worked with a team of brilliant scientists, engineers, and doctors to prove that powerful yet gentle natural ingredients2 can be used to improve your appearance without the use of drugs.
Chemicals you will
NEVER
find in our products:
One of several harsh chemicals we will never include in our products is benzoyl peroxide. This chemical is known to turn to acid upon contact with the skin and may cause local irritation such as redness, burning, dryness, itching, peeling and slight swelling. In fact, the government warned1 companies against the use of it. Another harsh chemical, salicylic acid, can irritate the skin and sometimes even trigger a serious allergic reaction. Instead, SkinKick replaces these man-made chemicals with safer, cleaner ingredients found in nature that don't have the nasty side effects.
It's what's on the inside that counts.
Let customers speak for us