NATURALLY SMART® INGREDIENTS
✓ Clean + Natural      ✓ Plant-Powered Exclusive Formulas      ✓ Safe For All Ages + All Skin Types      ✓ Sustainably Sourced
SkinKick provides high-performance skincare that clears, renews, and protects your skin without the use of harsh man-made chemicals typically found in popular brands. And it's for that reason that you don't need extra steps to calm your skin after using those aggravating harsh ingredients. With SkinKick, you only need 2-steps, two minutes, twice a day.
The secret is in our exclusive patent protected formulas made with blends of supercharged botanicals. With the combination of 8 key and highly potent plant extracts, our products are clean + natural, and equally as effective — because seeing you kickin' it is what matters most.


B3 Technology®
for blemish relief
Included in our Blemish Relief Lotion, this exclusive technology is proven to clear the appearance of blemishes and calm problem skin, leaving it healthy and smooth - not dry or damaged.
INGREDIENT PROFILE
Derived from a vine (Uncaria Tomentosa) native to the Amazon Rainforest. The name cat's claw comes from the thorns on the plant's leaves that have a hook like shape and look like the claws of a cat. Scientists in the U.S. reported it exerts powerful anti-inflammatory and antioxidant effects.
WHAT IT DOES FOR YOUR SKIN
This powerful and effective ingredient works to fight free radicals, calm the skin and reduce redness + inflammation.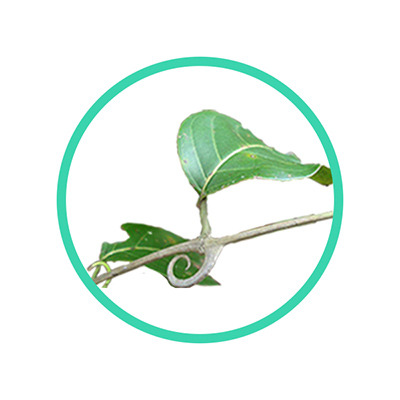 INGREDIENT PROFILE
A resin that comes from the Croton Uechleri trees found in the Amazon Rainforest. The indigenous Amazonians call it "Dragon's Blood" because the red sap that oozes from the tree when it is cut. Over 50 clinical studies have been reported that Dragon's Blood can promote skin repair and act as antiseptic due to its antibacterial, anti-inflammatory & anti-microbial properties.
WHAT IT DOES FOR YOUR SKIN
This ingredient acts as a second skin, creating an invisible barrier to protect your complexion from unwanted bacteria and pollution that can clog pores. It also works to reduce the appearance of redness, accelerate skin repair, and improve the beauty of the skin.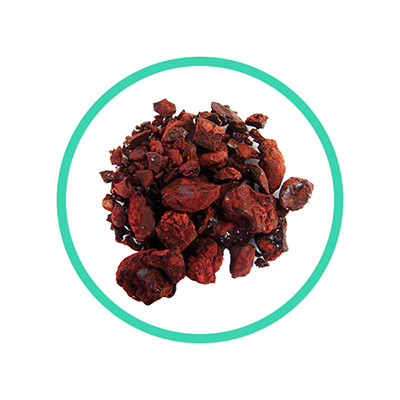 INGREDIENT PROFILE
This extract comes from the bark of Black Willow Tree (Salix Nigra) and is rich in tannins. The extract contains natural beta hydroxyl acids and is reported to have natural anti-inflammatory properties. One of these BHA's is a natural form of salicylic acid that can calm aggravated skin.
WHAT IT DOES FOR YOUR SKIN
This plant extract works to improve skin tone + texture, calm irritated skin, and improve the overall radiance of skin.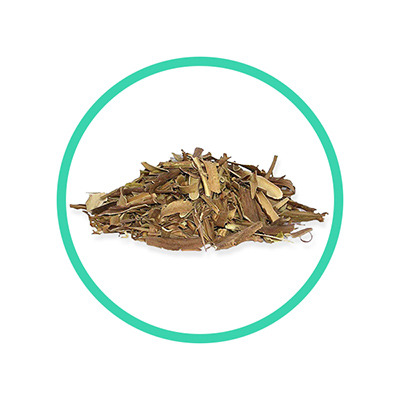 ---
TROPICAL HAVEN® Complex
for skin renewal + anti-aging
This formula effectively replaces retinol and delivers the highest concentrations of omega fatty acids, vitamins, nutrients, and antioxidants, leaving your skin healthy and looking clear, refreshed, and glowing!
INGREDIENT PROFILE
A cold-pressed oil using the seeds in the acai fruit from a wild and cultivated palm tree (Euterpe Oleracea) native to the Amazonian Rainforest. Loaded with essential fatty acids, Omegas 3, 6, 9, and Vitamins A, C, D & E. Contributing emollients and antioxidant activity to neutralize free radicals.
WHAT IT DOES FOR YOUR SKIN
This ingredient helps renew your skin, delaying the appearance of aging on your skin. The fatty acids help strengthen cell membranes and keep skin cells hydrated.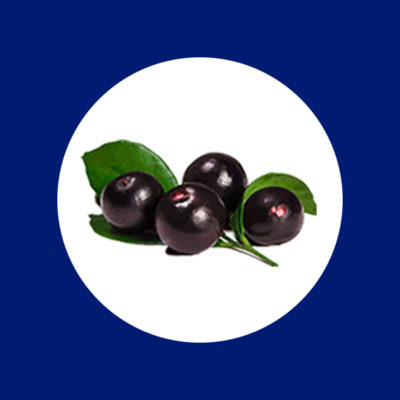 INGREDIENT PROFILE
A cold-pressed oil from the nuts of the Andiroba tree (Carapa Guianesis) found wild in the Amazonian Rainforest. Generations of people in the Amazon have used this oil for its anti-inflammatory properties. It is rich in Omega 3 fatty acids that promote skin healing.
WHAT IT DOES FOR YOUR SKIN
The light oil absorbs into the skin the quickest and is a great emollient to soften the skin. It delivers rich nutrients and works to improve skin tone + texture.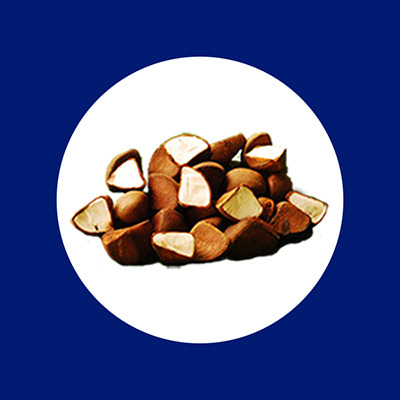 INGREDIENT PROFILE
A dehydrated extract from the pulp of the Camu-Camu fruit, which comes from the (Myrciaria dubia) tree. This powerful antioxidant contains the highest concentration of Vitamin C of ANY natural source on the planet (up to more than 60x an orange)!
WHAT IT DOES FOR YOUR SKIN
» Helps to boost firmness
» Repairs and revitalizes your skin
» Improves the appearance of uneven skin tone, wrinkles + fine lines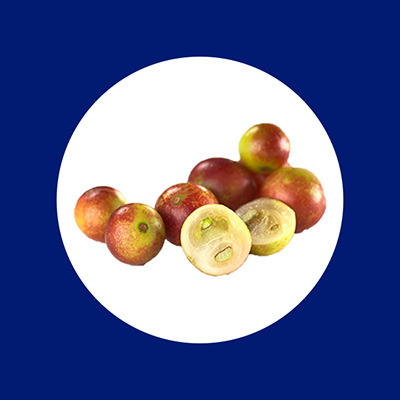 INGREDIENT PROFILE
Refined from the sap of the Copaiba tree (Copaifera officinalis), it is prized for its anti-inflammatory activity, anti-bacterial properties and repulsion of biting insects. The tree is a long-living canopy tree important to maintaining the biodiversity of the Amazon.
WHAT IT DOES FOR YOUR SKIN
It helps to renew your skin by working to keep it smooth and toned, while minimizing the appearance of blemishes and aiding in skin repair.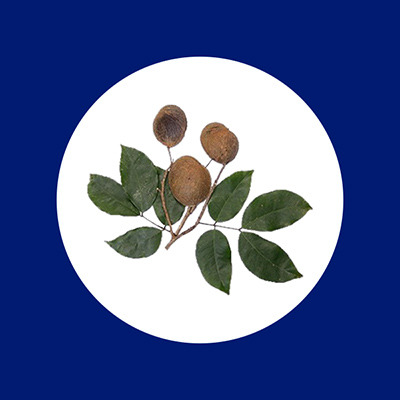 INGREDIENT PROFILE
Derived from the seeds of the wild-harvested fruit produced by the Pequi (Caryocar brasiliensis) tree from the southern edge of the Amazonian Rainforest. This oil is full of beneficial fatty acids and Vitamins A & C and anti-bacterial & anti-inflammatory properties.
WHAT IT DOES FOR YOUR SKIN
This ingredient promotes skin renewal. It acts to nourish the skin and help keep the skin smooth and toned, while minimizing the appearance of blemishes.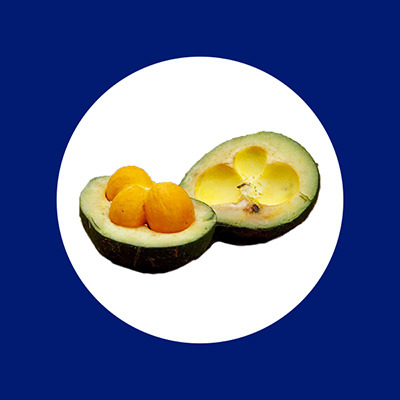 ---
beautyskin™ technology
for skin barrier protection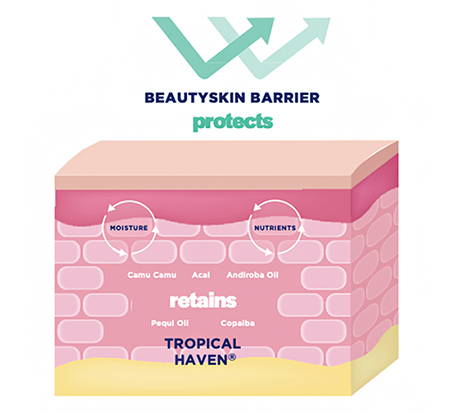 Our exclusive BeautySkin™ Technology helps renew the skin by keeping it hydrated and by forming a "second skin" (or barrier) to protect you from pollution, germs, and bacteria. This 100% natural technology is used in each of our lotions and serums. Developed in the Amazon Rainforest to protect the skin from parasites, this powerful formula also works to improve the overall appearance and health of the skin.